Studies in Media and Communication
(ISSN: 2325-8071; E-ISSN: 2325-808X) is an international, peer-reviewed, open-access journal, published by Redfame Publishing. The journal is published quarterly in both print and online versions. The journal accepts article submissions
online
or by
e-mail
.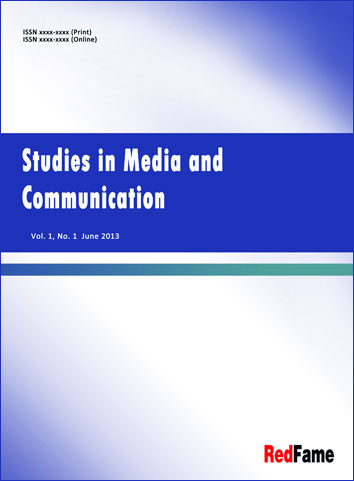 SMC aims to promote excellence through dissemination of high-quality research findings, specialist knowledge, and discussion of professional issues that reflect the diversity of this field.
The focuses and scopes of the journal include:
Applied Communication
Communication Education
Communication Theory
Digital Communication
Electronic Media
Environmental Communication
Health Communication
International and Intercultural Communication
Interpersonal Communication
Language and Social Interaction
Legal Communication
Mass Communication and Media Literacy
Mass Media
Organizational Communication
Political Communication
Public Relations
Semiotics
Small Group Communication
Speech Communication
Theatre and Drama
Visual Communication
The journal is included in:
Provides DOIs at the article level:
Each paper published in Studies in Media and Communication is assigned a DOI® number, which appears beneath the author's affiliation in the published paper. Click HERE to know what is DOI (Digital Object Identifier)? Click HERE to retrieve Digital Object Identifiers (DOIs) for journal articles, books, and chapters.
---
Publication Policies
Deposit Policy / Archiving Policy

»
Submission Preparation
As part of the submission process, authors are required to check off their submission's compliance with all of the following items, and submissions may be returned to authors that do not adhere to these guidelines.
- Please read the Author Guide before you submit a manuscript.
- The submission has not been previously published, nor is it before another journal for consideration (or an explanation has been provided in Comments to the Editor).
- The submission file is in Microsoft Word file format.
- The text adheres to the stylistic and bibliographic requirements outlined in the Author Guide.
- Add DOIs and persistent links to those references that have DOIs, please see the Author Guide.
- If the paper is accepted for publication, you will be asked to pay an Article Processing Charge: 600USD/article.
- Copyrights for articles published in this journal are retained by the authors, with first publication rights granted to the journal. The journal/publisher is not responsible for subsequent uses of the work. It is the author's responsibility to bring an infringement action if so desired by the author.
NOTE:
The publisher and journal have a policy of "Zero Tolerance on the Plagiarism". We check the plagiarism issue through two methods: reviewer check and plagiarism prevention tool (ithenticate.com).
All submissions will be checked by iThenticate before being sent to reviewers.
Start a New Submission
Option 1:

 Click Here to submit a manuscript online. 

Option 2:

 Send your manuscript and supplements (if applicable) to E-mail: smc@redfame.com
Announcements
Studies in Media and Communication Indexed ANVUR

We are pleased to announce that Studies in Media and Communication (ISSN 2325-8071 E-ISSN 2325-808X) has been indexed in ANVUR. 

Posted: 2023-11-24
More...

SMC, Vol. 12, No. 1, March 2024: Call for Papers

Studies in Media and Communication is calling for submissions to the Vol. 12, No. 1, March 2024 issue (Deadline: January 20, 2024). If you are interested in submitting a manuscript to this journal, please review the About the Journal page for the journal's section policies, as well as the Author Guidelines to see how to submit a manuscript to Redfame journals. For questions, please contact smc@redfame.com.
Posted: 2023-10-26
More...

Recruitment for Reviewers

Studies in Media and Communication welcomes scientists and researchers to participate as peer reviewers. Excellent reviewers will be enrolled as Editorial Board Members and will be listed in the printed journal as well as the journal's webpage. Please click here to find more details.
Posted: 2023-03-05
More...

Studies in Media and Communication Indexed in Scopus

We are pleased to announce that Studies in Media and Communication (ISSN 2325-8071 E-ISSN 2325-808X) has been indexed in Scopus since 2021. Scopus is the world's largest abstract and citation database of peer-reviewed literature, and is published by Elsevier B.V..

The Studies in Media and Communication editorial board congratulates everyone involved with the journal for their consistently hard work and attention. Thanks to all of you, the journal now enjoys a rising level of prestige in the publishing world.

Posted: 2022-06-15
More...
Vol 12, No 1 (2024): [In Progress]
Studies in Media and Communication, Vol. 12, No. 1, March 2024
Table of Contents
Articles
| | | |
| --- | --- | --- |
| | Dorela Kaҫauni, Evjonda Pylli | 1-10 |
| | | |
| --- | --- | --- |
| | Mohammad Awad AlAfnan | 11-22 |
| | | |
| --- | --- | --- |
| | Dono Darsono, Dian Wardiana Sjuchro, Ridwan Rustandi, Enjang Muhaemin | 23-32 |
| | | |
| --- | --- | --- |
| | Dian Jin, Wan Anita Wan Abas, Syafila Kamarudin | 42-57 |
| | | |
| --- | --- | --- |
| | Zuhair Dawood Mohammad Zaghlool, Mohamad Ahmad Saleem Khasawneh | 58-70 |
| | | |
| --- | --- | --- |
| | Mohamad Ahmad Saleem Khasawneh | 71-78 |
| | | |
| --- | --- | --- |
| | Lin Lyu, Lily Suriani Binti Mohd Arif, Ruzanna Binti Shahrin | 79-89 |
| | | |
| --- | --- | --- |
| | Mariana Karanevych, Oryslava Ivantsiv, Oksana Kutsa | 90-101 |
| | | |
| --- | --- | --- |
| | Methwad Mahrout M Alsowait, Saah Saleh Shlash Obeidat, Lubna Mahmoud Obeidat, Mohammad Nayef Ayasrah, Mohamad Ahmad Saleem Khasawneh | 102-108 |
| | | |
| --- | --- | --- |
| | Xin Zhang, Syafila Kamarudin, Qingqing Tang | 109-123 |
| | | |
| --- | --- | --- |
| | Fengbo Bao, Siti Aishah Binti Hj Mohammad Razi, Megat Al Imran Bin Yasin | 124-131 |
| | | |
| --- | --- | --- |
| | Khalil Almabrouk, Hamedi Adnan, Nor Zaliza Sarmiti | 132-143 |
| | | |
| --- | --- | --- |
| | Stylianos Papathanassopoulos, Euripides Antoniades | 151-159 |