Studies in Media and Communication
(ISSN: 2325-8071; E-ISSN: 2325-808X) is an international, peer-reviewed, open-access journal, published by Redfame Publishing. The journal is published
semiannually
in both
print and online versions
. The journal accepts article submissions
online
or by
e-mail
.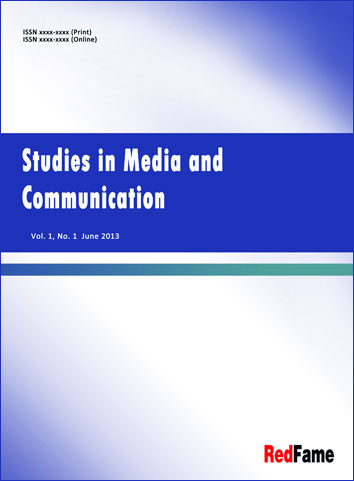 SMC aims to promote excellence through dissemination of high-quality research findings, specialist knowledge, and discussion of professional issues that reflect the diversity of this field.
The focuses and scopes of the journal include:
Applied Communication
Communication Education
Communication Theory
Digital Communication
Electronic Media
Environmental Communication
Health Communication
International and Intercultural Communication
Interpersonal Communication
Language and Social Interaction
Legal Communication
Mass Communication and Media Literacy
Mass Media
Organizational Communication
Political Communication
Public Relations
Semiotics
Small Group Communication
Speech Communication
Theatre and Drama
Visual Communication
The journal is included in:
Beardslee Library
Crossref
LOCKSS
Open Access Library (OALib)
OpenEdition
Open J-Gate
RePEc
Scilit
Ulrich's
Worldcat
Provides DOIs at the article level:
Each paper published in Studies in Media and Communication is assigned a DOI® number, which appears beneath the author's affiliation in the published paper. Click HERE to know what is DOI (Digital Object Identifier)? Click HERE to retrieve Digital Object Identifiers (DOIs) for journal articles, books, and chapters.
---
Publication Policies
Deposit Policy / Archiving Policy

»
Submission Preparation
As part of the submission process, authors are required to check off their submission's compliance with all of the following items, and submissions may be returned to authors that do not adhere to these guidelines.
- Please read the Author Guide before you submit a manuscript.
- The submission has not been previously published, nor is it before another journal for consideration (or an explanation has been provided in Comments to the Editor).
- The submission file is in Microsoft Word file format.
- The text adheres to the stylistic and bibliographic requirements outlined in the Author Guide.
- Add DOIs and persistent links to those references that have DOIs, please see the Author Guide.
- If the paper is accepted for publication, you will be asked to pay an Article Processing Charge: 300USD/article.
- Copyrights for articles published in this journal are retained by the authors, with first publication rights granted to the journal. The journal/publisher is not responsible for subsequent uses of the work. It is the author's responsibility to bring an infringement action if so desired by the author.
NOTE:
The publisher and journal have a policy of "Zero Tolerance on the Plagiarism". We check the plagiarism issue through two methods: reviewer check and plagiarism prevention tool (ithenticate.com).
All submissions will be checked by iThenticate before being sent to reviewers.
Start a New Submission
Option 1:

 Click Here to submit a manuscript online. 

Option 2:

 Send your manuscript and supplements (if applicable) to E-mail: smc@redfame.com
Announcements
The Review of Our Journal for Scopus is Complete

Studies in Media and Communication (SMC) has been evaluated for inclusion in Scopus by the Content Selection & Advisory Board (CSAB). The review is now complete and the CSAB has advised that this journal will be accepted for inclusion in Scopus. Click HERE to track the progress. We believe Studies in Media and Communication will appear in Scopus very soon.
Posted: 2021-08-24
More...

Reviewer Recruitment

Requirements

1. Possess a doctoral degree in a discipline related closely to the journal 
2. Hold a teaching or research position at a university or academic institution 
3. Be fluent in academic and professional English 
4. Have a strong interest in the scholarly journal 
5. Work quickly and accurately under tight deadlines
6. Reviewers are required to follow the Committee on Publication Ethics (COPE)'s COPE Ethical Guidelines for Peer Reviewers.

Posted: 2021-08-23
More...

SMC Statistics Report 2020

Articles Received: 46  
Articles Accepted: 19  
Articles Rejected: 27
Articles Retracted: 0    
Articles Published: 16   
Acceptance Rate: 41.30%
Posted: 2021-03-03
More...

SMC Statistics Report 2019

Articles Received: 64  
Articles Accepted: 35  
Articles Rejected: 29
Articles Retracted: 0    
Articles Published: 19   
Acceptance Rate: 54.69%
Posted: 2020-02-19
More...

SMC Indexed in ERA

Studies in Media and Communication (SMC) has been indexed in ERA, Excellence in Research for Australia, Australia's national research evaluation framework. ERA identifies and promotes excellence across the full spectrum of research activity in Australia's higher education institutions.
Posted: 2019-06-20
More...
Vol 9, No 2 (2021)
Studies in Media and Communication, Vol. 9, No. 2, December 2021
Table of Contents
Articles
| | | |
| --- | --- | --- |
| | Starling David Hunter, Susan Smith, Shanzeh Shafiq | 1-11 |
| | | |
| --- | --- | --- |
| | Lambrini Papadopoulou, Karolos Kavoulakos, Christos Avramidis | 12-23 |
| | | |
| --- | --- | --- |
| | Ela Nurlaela, Ratna Mappanyukki, Dwi Asih Surjandari | 24-35 |
| | | |
| --- | --- | --- |
| | Stepan Postil, Nataliia Kozak, Natalia Zykun, Petrо Tsymbal, Hanna Vlasova | 36-44 |
| | | |
| --- | --- | --- |
| | Oleksandr Balaban, Olena Levchenko, Ivan Krupskyy, Alla Medvedieva, Volodymyr Mykhalov | 45-50 |
| | | |
| --- | --- | --- |
| | Galina Gerasimova, Olga Shvetsova, Lamara Mehrishvili | 51-57 |
| | | |
| --- | --- | --- |
| | Theresa Catalano, Peiwen Wang | 58-70 |
| | | |
| --- | --- | --- |
| | Eunyoung Nam, Peng Xiong | 71-83 |
| | | |
| --- | --- | --- |
| | Joshua Aghogho Erubami, Patience Elohor Oziwele, Edith Ugochi Ohaja, Martins Ndubisi Ezugwu, Uchenna Chijindu Anorue | 95-103 |