International Journal of Contemporary Education (ISSN: 2575-3177; E-ISSN: 2575-3185) is an open-access, international, double-blind peer-reviewed journal published by Redfame Publishing. The journal is published Semiannually in both print and online versions and accepts articles submission online or by email. The online version is free to access and download. IJCE aims to promote excellence through dissemination of high-quality research findings, specialist knowledge, and discussion of professional issues that reflect the diversity of this field.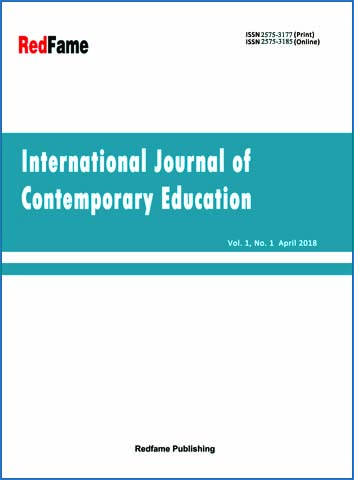 The focuses and scopes of the journal include:
Applied Linguistics
Critical Pedagogy
Curriculum and Instruction
Distance Education
Educational Psychology
Educational Technology
Higher Education
Language Education
Physical Education
Psychology Education
Science Education
Sex Education
Special Education
Sports Coaching
Teacher Education
Technology Education
Vocational Education
The journal is included in:
Crossref
Directory of Research Journal Indexing (DRJI)
Google Scholar
LOCKSS
PKP Open Archives Harvester
Scilit
Worldcat
Provides DOIs at the article level:
Each paper published in International Journal of Contemporary Education is assigned a DOI® number, which appears beneath the author's affiliation in the published paper. Click HERE to know what is DOI (Digital Object Identifier)? Click HERE to retrieve Digital Object Identifiers (DOIs) for journal articles, books, and chapters.
---
Publication Policies
Deposit Policy / Archiving Policy

»
Submission Preparation
As part of the submission process, authors are required to check off their submission's compliance with all of the following items, and submissions may be returned to authors that do not adhere to these guidelines.
- Please read the Author Guide before you submit a manuscript.
- The submission has not been previously published, nor is it before another journal for consideration (or an explanation has been provided in Comments to the Editor).
- The submission file is in Microsoft Word file format.
- The text adheres to the stylistic and bibliographic requirements outlined in the Author Guide.
- Add DOIs and persistent links to those references that have DOIs, please see the Author Guide.
- If the paper is accepted for publication, you will be asked to pay an Article Processing Charge: 300USD/article.
- Copyrights for articles published in this journal are retained by the authors, with first publication rights granted to the journal. The journal/publisher is not responsible for subsequent uses of the work. It is the author's responsibility to bring an infringement action if so desired by the author.
NOTE:
The publisher and journal have a policy of "Zero Tolerance on the Plagiarism". We check the plagiarism issue through two methods: reviewer check and plagiarism prevention tool (ithenticate.com).
All submissions will be checked by iThenticate before being sent to reviewers.
Start a New Submission
Option 1:

 Click Here to submit a manuscript online. 

Option 2:

 Send your manuscript and supplements (if applicable) to E-mail: ijce@redfame.com
Announcements
IJCE, Vol. 7, No. 1, April 2024: Call for Papers

International Journal of Contemporary Education

 is calling for submissions to the Vol. 7, No. 1, April 2024 issue (Deadline: March 5, 2024). If you are interested in submitting a manuscript to this journal, please review the About the Journal page for the journal's section policies, as well as the Author Guidelines to see how to submit a manuscript to Redfame journals. For questions, please contact: ijce@redfame.com.
Posted: 2023-09-11
More...

Recruitment of Reviewers

International Journal of Contemporary Education

 welcomes scientists and researchers to participate as peer reviewers. Excellent reviewers will be enrolled as Editorial Board Members and will be listed in the printed journal as well as the journal's webpage. Please click here to find more details and send the completed application form to ijce@redfame.com.
Posted: 2023-03-05
More...
Vol 6, No 2 (2023)
International Journal of Contemporary Education, Vol. 6, No. 2, October 2023
Table of Contents
Articles
| | | |
| --- | --- | --- |
| | Mazen Muhieddine Kotob, Nihaya Zaher Mansour | 1-19 |
| | | |
| --- | --- | --- |
| | Kathleen Stein Smith | 26-36 |
| | | |
| --- | --- | --- |
| | Haroon Malak, Stephen F. Gambescia | 37-48 |
| | | |
| --- | --- | --- |
| | Su Liang, Tina Vega | 49-55 |
| | | |
| --- | --- | --- |
| | Mengxu Fan, He Li | 56-63 |