Studies in Engineering and Technology (ISSN: 2330-2038; E-ISSN: 2330-2046) is an international, peer-reviewed, open-access journal, published by Redfame Publishing. The journal is published in both print and online versions.
SET aims to promote excellence through dissemination of high-quality research findings, specialist knowledge, and discussion of professional issues that reflect the diversity of this field.
The journal accepts article submissions online or by e-mail.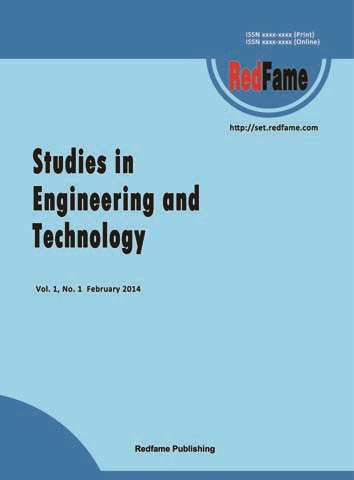 The focuses and scopes of the journal include:
Aerospace Engineering
Biological and Agricultural Engineering
Chemical Engineering
Civil Engineering
Computer Engineering
Electrical Engineering
Genetic Engineering
Industrial Engineering
Materials Engineering
Mechanical Engineering
Nanoengineering
Software Engineering
The journal is included in:
Crossref
IE Library
LOCKSS
Mendeley
PKP Open Archives Harvester
Ulrich's
Worldcat
Provides DOIs at the article level:
Each paper published in Studies in Engineering and Technology is assigned a DOI® number, which appears beneath the author's affiliation in the published paper. Click HERE to know what is DOI (Digital Object Identifier)? Click HERE to retrieve Digital Object Identifiers (DOIs) for journal articles, books, and chapters.
---
Publication Policies
Deposit Policy / Archiving Policy

»
Submission Preparation
As part of the submission process, authors are required to check off their submission's compliance with all of the following items, and submissions may be returned to authors that do not adhere to these guidelines.
- Please read the Author Guide before you submit a manuscript.
- The submission has not been previously published, nor is it before another journal for consideration (or an explanation has been provided in Comments to the Editor).
- The submission file is in Microsoft Word file format.
- The text adheres to the stylistic and bibliographic requirements outlined in the Author Guide.
- Add DOIs and persistent links to those references that have DOIs, please see the Author Guide.
- If the paper is accepted for publication, you will be asked to pay an Article Processing Charge: 200USD/article.
- Copyrights for articles published in this journal are retained by the authors, with first publication rights granted to the journal. The journal/publisher is not responsible for subsequent uses of the work. It is the author's responsibility to bring an infringement action if so desired by the author.
NOTE:
The publisher and journal have a policy of "Zero Tolerance on the Plagiarism". We check the plagiarism issue through two methods: reviewer check and plagiarism prevention tool (ithenticate.com).
All submissions will be checked by iThenticate before being sent to reviewers.
Start a New Submission
Option 1:

 Click Here to submit a manuscript online. 

Option 2:

 Send your manuscript and supplements (if applicable) to E-mail: set@redfame.com
Announcements
SET, Vol. 9, No. 1, August 2022: Call for Papers

Studies in Engineering and Technology is calling for submissions to the Vol. 9, No. 1, August 2022 issue (Deadline: July 5, 2022). If you are interested in submitting a manuscript to this journal, please review the About the Journal page for the journal's section policies, as well as the Author Guidelines to see how to submit a manuscript to Redfame journals. For questions, please contact: set@redfame.com.
Posted: 2022-01-24
More...

SET Indexed in ERA

Studies in Engineering and Technology (SET) has been indexed in ERA, Excellence in Research for Australia, Australia's national research evaluation framework. ERA identifies and promotes excellence across the full spectrum of research activity in Australia's higher education institutions.
Posted: 2019-06-20
More...

Policy Change of Free Print Journals

As you are aware, printing and delivery of journals results in causing a significant amount of detrimental impact to the environment. Being a responsible publisher and being considerate for the environment, we have decided to change the policy of offering free print journals for authors.

From May 1, 2018, we will not automatically provide authors free print journals. However, when authors really need free print copies, they are requested to kindly complete an application form to order printed copies. Once approved, we will arrange print and delivery, for a maximum of two copies per article. If authors require more than two copies, they are requested to order online at: http://home.redfame.com/subscription-information/

We are committed to saving the planet for our future generations.

Posted: 2018-06-15
More...
Vol 9, No 1 (2022): [In Progress]
Studies in Engineering and Technology, Vol. 9, No. 1, August 2022
Table of Contents
Articles
| | | |
| --- | --- | --- |
| | Chengjia Huang, Zhengyong Chen, Sitong Chen | 13-26 |