Applied Economics and Finance (ISSN 2332-7294; E-ISSN 2332-7308) is an international, peer-reviewed, open-access journal, published by the Redfame Publishing. The journal is published quarterly in both print and online versions. The journal accepts article submissions online or by e-mail.
Authors are encouraged to submit complete unpublished and original works, which are not under review in any other journals. AEF is dedicated to promoting scholarly exchange among teachers and researchers worldwide in the field of economics and finance.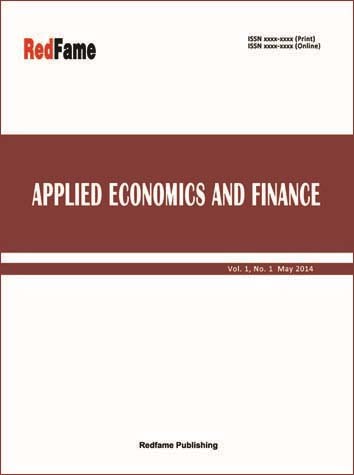 The scopes of the journal include:
Agricultural Economics
Business Economics
Demographic Economics
Development Economics
Econometrics
Economic Systems
Education Economics
Entrepreneurship
Finance & Investments
Financial Economics
Industrial Organization
Institutional & Corporate Finance
Insurance & Risk Management
International Economics, Finance & Trade
Investments & Securities
Labour Economics
Macroeconomics & Microeconomics
Marketing
Monetary Economics and Banking
Oil & Energy Economics
Political Economics
Public Economics
Real Estate
Urban, Rural & Regional Economics
The journal is included in:
Crossref

IBZ Online
IE Library
LOCKSS
PKP Open Archives Harvester

RePEc

Scilit

Worldcat
 Provides DOIs at the article level:
Each paper published in Applied Economics and Finance is assigned a DOI® number, which appears beneath the author's affiliation in the published paper. Click HERE to know what is DOI (Digital Object Identifier)? Click HERE to retrieve Digital Object Identifiers (DOIs) for journal articles, books, and chapters.
---
Publication Policies
Deposit Policy / Archiving Policy

»
Submission Preparation
As part of the submission process, authors are required to check off their submission's compliance with all of the following items, and submissions may be returned to authors that do not adhere to these guidelines.
- Please read the Author Guide before you submit a manuscript.
- The submission has not been previously published, nor is it before another journal for consideration (or an explanation has been provided in Comments to the Editor).
- The submission file is in Microsoft Word file format.
- The text adheres to the stylistic and bibliographic requirements outlined in the Author Guide.
- Add DOIs and persistent links to those references that have DOIs, please see the Author Guide.
- If the paper is accepted for publication, you will be asked to pay an Article Processing Charge: 300USD/article.
- Copyrights for articles published in this journal are retained by the authors, with first publication rights granted to the journal. The journal/publisher is not responsible for subsequent uses of the work. It is the author's responsibility to bring an infringement action if so desired by the author.
NOTE:
The publisher and journal have a policy of "Zero Tolerance on the Plagiarism". We check the plagiarism issue through two methods: reviewer check and plagiarism prevention tool (ithenticate.com).
All submissions will be checked by iThenticate before being sent to reviewers.
Start a New Submission
Option 1:

 Click Here to submit a manuscript online. 

Option 2:

 Send your manuscript and supplements (if applicable) to E-mail: aef@redfame.com
Announcements
AEF, Vol. 11, No. 1, February 2024: Call for Papers

Applied Economics and Finance is now calling for submissions to the Vol. 11, No. 1, February 2024 issue (Deadline: January 1, 2024). If you are interested in submitting a manuscript to this journal, please review the About the Journal page for the journal's section policies, as well as the Author Guidelines to see how to submit a manuscript to Redfame journals. For questions, please contact: aef@redfame.com.
Posted: 2023-11-05
More...

AEF Statistics Report 2022

Articles Received: 78
Articles Accepted: 37
Articles Rejected: 40
Articles Retracted: 0   
Articles Published: 29
Acceptance Rate: 47.44%
Posted: 2023-02-28
More...

Recruitment for Reviewers

Applied Economics and Finance welcomes scientists and researchers to participate as peer reviewers.

Eligibility and Requirements for Peer Reviewers:

Doctoral degree or above
Academic job at a university or organization
Fluency in English (academic and professional)
Strong interest and expertise in scholarly journals
Speed and accuracy

The benefits of being a Peer Reviewer include:

Developing professional opportunities and contacts
Increasing evaluation skills
Being the first to see new materials
Listing as an Editorial Board member in the print journal and on its website
Bolstering of resumes for promotion and/or tenure
Assisting Redfame Publishing in providing high quality work

How to Apply:

Please complete the application form (Click HERE to download) and send it to aef@redfame.com

Posted: 2023-02-08
More...